ecoPowerTrolley – electricity available always and everywhere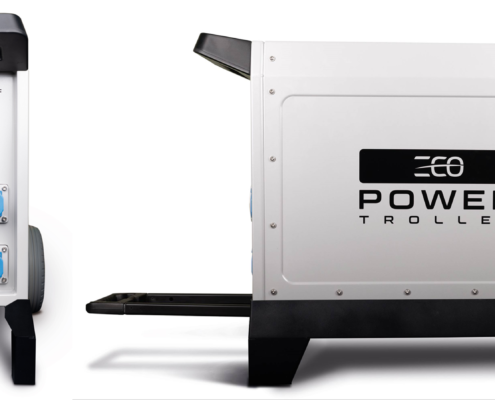 ecocoach AG develops and manufactures innovative products for energy transition. Their latest product is the ecoPowerTrolley – a mobile power supply for professional use. The ecoPowerTrolley is a sustainable, environmentally friendly, and transportable energy source with a net capacity of 8 kWh and a maximum continuous discharge power of 11 kW. The range of applications is extremely versatile, and the high degree of protection means the device is well-equipped for outdoor use. konplan supported the serialization of the ecoPowerTrolley for ecocoach AG.
The goal was to optimize the construction of the existing aluminum sheet housing for the next series production regarding cost, manufacturability, and assembly effort. In close cooperation with the supplier, the housing was simplified, and the costs were optimized in a short period of time. In addition, through extensive research, procurement, and materials testing, konplan developed a sealing concept which satisfies the specified IP65 protection rating. Furthermore, ecocoach AG benefited from our expertise in plastics with the delivery of CAD-constructed, plastic handles and skids according to their design specifications.
Cost reduction with a design suitable for series production
Efficient supplier management as well as other measures resulted in a 20% cost reduction for the housing and significantly reduced the effort required for production and final assembly. The sealing concept was tested and successfully verified for the required IP protection rating. Thus, ecocoach AG was optimally prepared for series production and subsequent market entry.