Fully automatic rework in the cleanroom: Optimization of a robot cell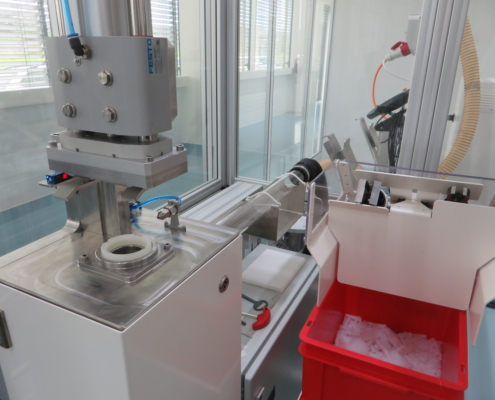 The GEMÜ Group is an international company and a leading manufacturer of valves, measurement, and control systems for liquids, vapors, and gases. As the "Headquarters of Plastics", GEMÜ Switzerland is the GEMÜ Group's Service and Competence Center for high-grade plastic solutions. Injection molding processes are used at the cleanroom plant in Emmen to produce high-purity plastic products such as medical technology components and high-purity valves. These valves are vital components in processes such as ultra-pure chemical supply systems and ultra-pure water treatment and distribution systems for the semiconductor and solar power industries. konplan was given the opportunity to support GEMÜ Switzerland by increasing the degree of automation to produce high-purity valves. Thanks to targeted modification and expansion of a robot cell on the injection molding machine, various steps in the process were eliminated and the machine's availability was increased.
Process analysis and optimization
Initially, a holistic root-cause analysis was used to identify both the challenges of the previous rework process and the potential for further automation. These evaluations provided the foundation for subsequent optimization of the robot cell. This included the external procurement of a "cooling" station as well as the design, construction, assembly, and commissioning of two additional stations: the processing station and the cutting station. konplan supervised the complete integration of the new components with the existing robot cell and, also, assumed the project management role.
Short-term support – Long-term savings
Thanks to the short-term support of konplan, GEMÜ Switzerland was able to perform a timely analysis and optimization of the production process. The entire manufacturing process has been significantly simplified. Furthermore, the integration of additional automated rework steps has allowed GEMÜ Switzerland to save on complex logistics steps. Plus: The additional automation has increased the available production capacity with very high process stability.